This is the wonderful cabin of Claudia Stauber, our fantastic host. We were on the dead end of her driveway, about a quarter mile from the road, and as peaceful as a picture. The snow you see is at least 3 feet deep in front of the cabin.
The bassets learned real quick to stay only on snow that was already packed down.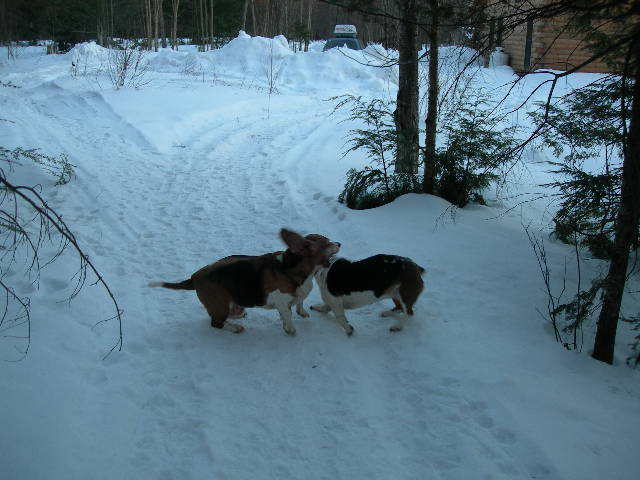 Here we have Humphrey playing with Precious.
We were returning from a walkie with the buppies. The trail we were on led out to a large field where snowmobiles traveled. You can see the BUV (almost) and the back of the cabin on the right background.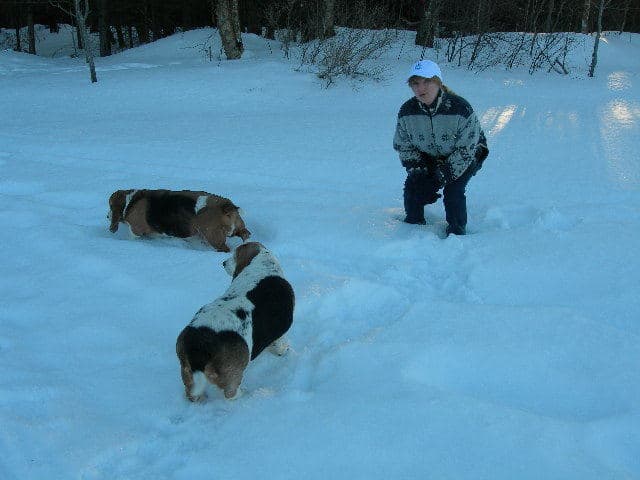 Here's Debbie, Jacques and Humphrey.
We are out in the back field on the walkies. Humphrey is finding out how deep the snow is, while Deb is calling to Jacques.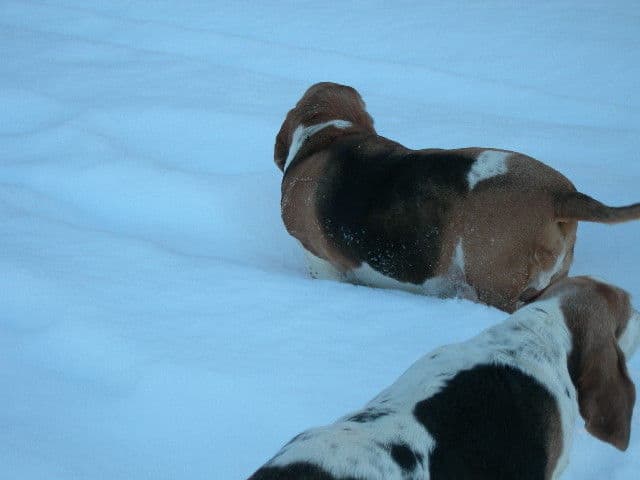 Snow bassets!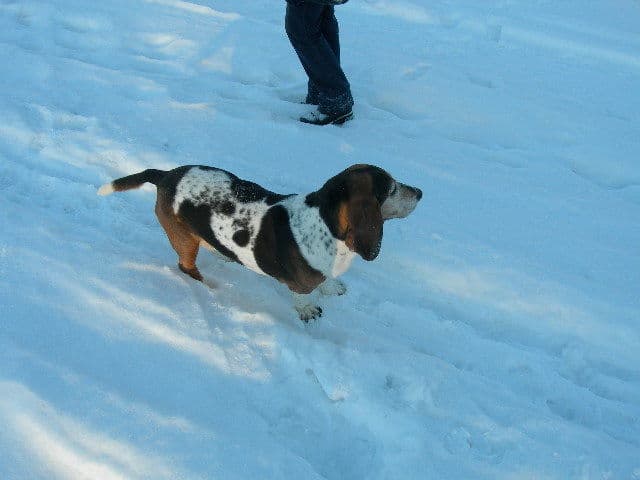 There's our houndette, Precious da Bean!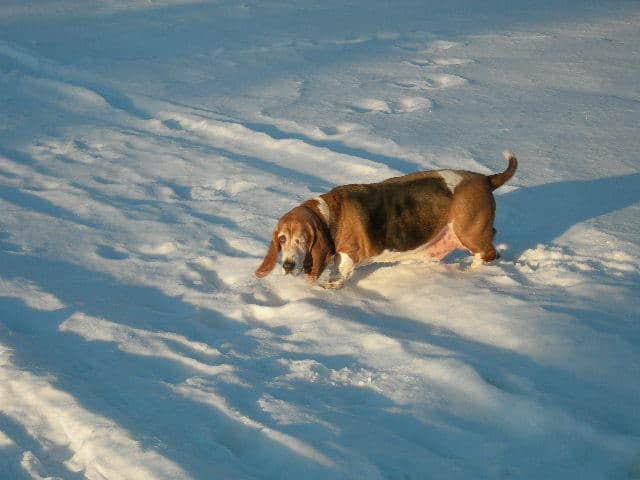 Humphrey the Tank. No, he is not winking...as some fellow droolers know, Humphrey lost his eye to glaucoma in 2007.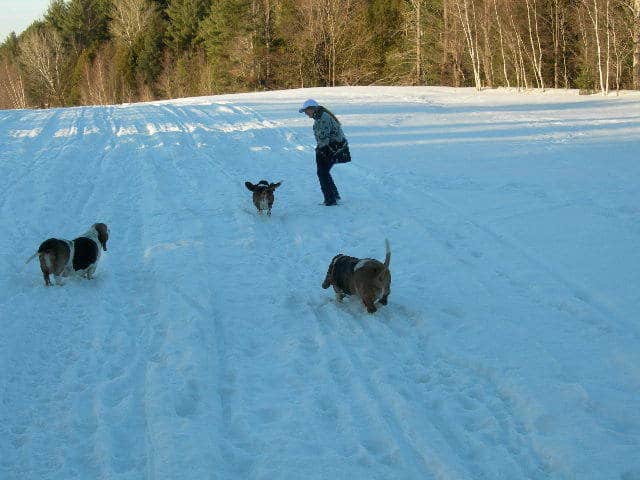 There goes Precious trying to get air borne!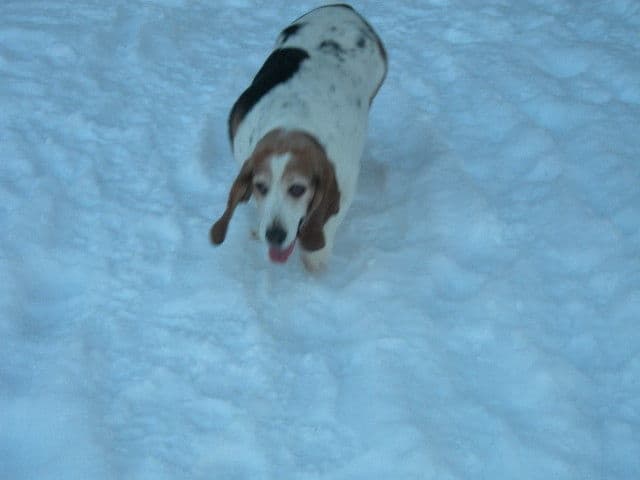 Jacques-amo Bear, always a happy boy!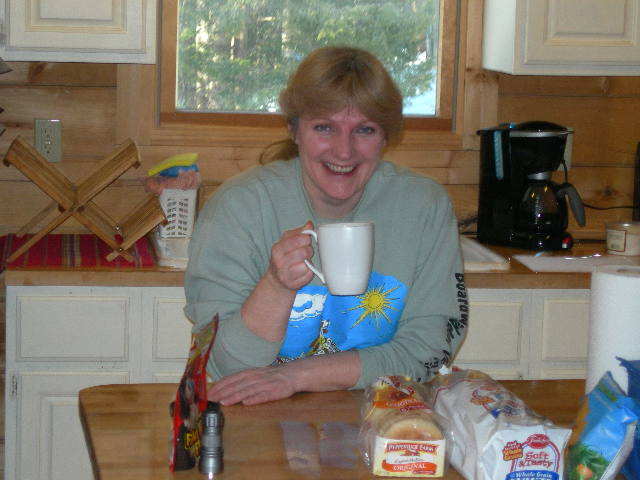 My beautiful wife, Debra Ann. I owe her so much for the best 20+ years of my life.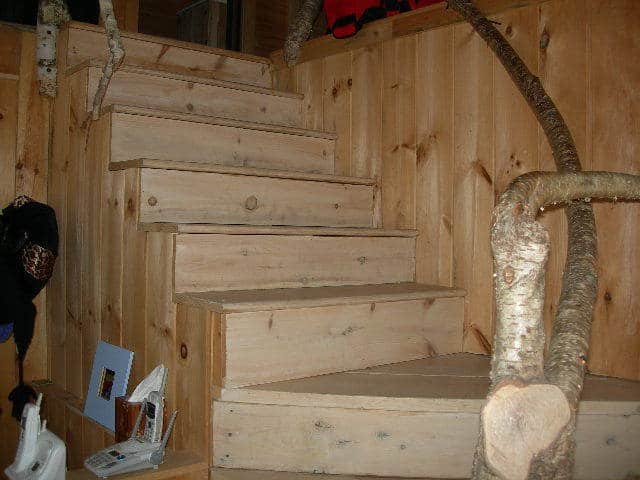 The stairs to the loft, upstairs bedroom & bathroom.
The hounds did not like the bare wood, but Auntie Claudia had a baby gate already set up to keep them from traveling.
As you may notice, bare side of stairs, aka no rails...AHHHHH!
That is a real birch tree inner rail. Way cool!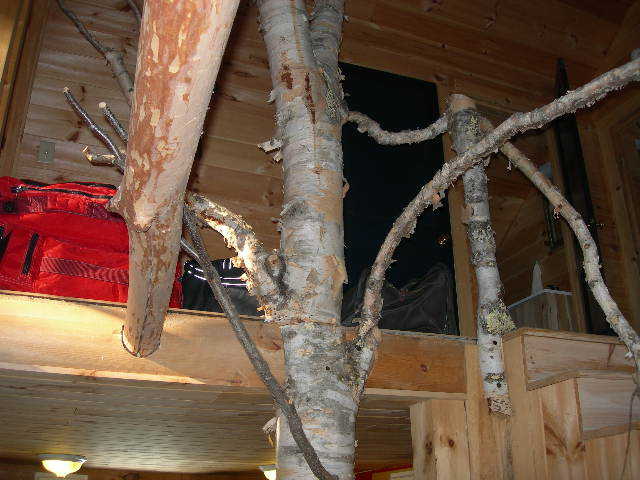 Top of the steps, with the bedroom off to the left, bathroom in background. NO, the lou. Claudia is German, and the upstairs bathing was seperate from the...ahem...toilet. That is a real birch tree in the center of the picture.
This cabin is one of a kind.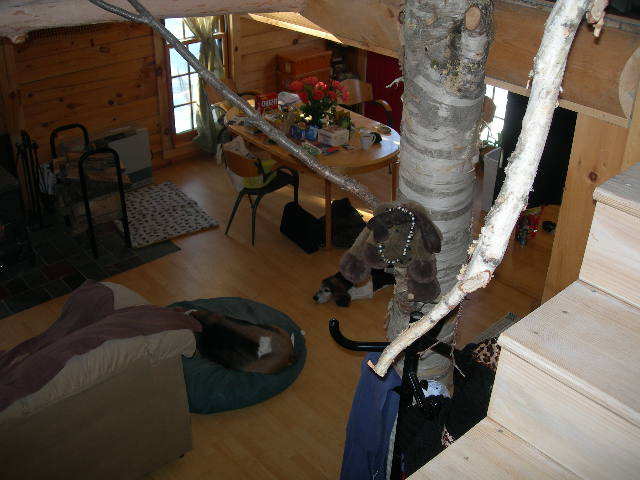 Here you are looking down from the steps to the main living area.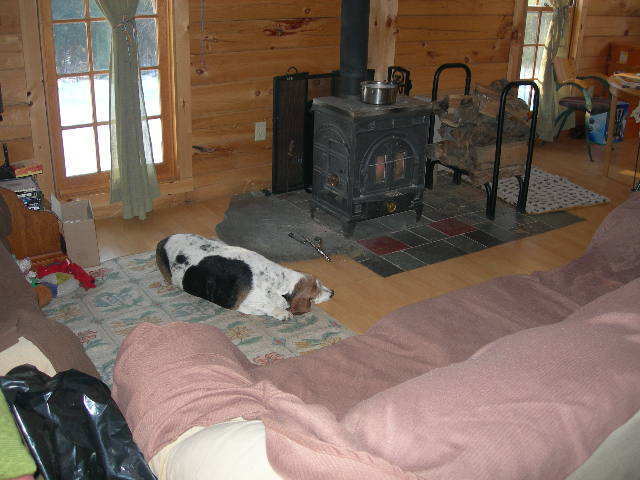 Jacques & the wood stove. Off to the right is the dining area.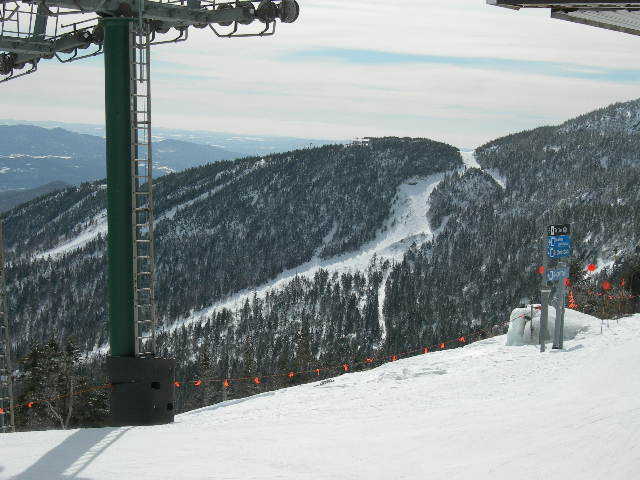 This photo is from the top of Mt Mansfield, the highest point in Vermont.
In the background is the double diamond trail, Nosedive.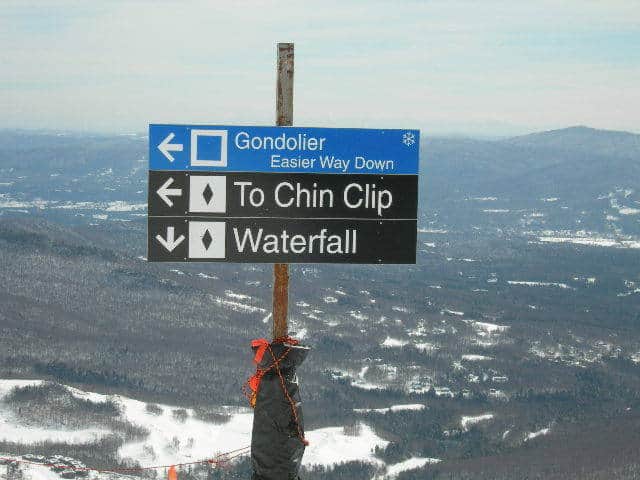 From the top...nuff said!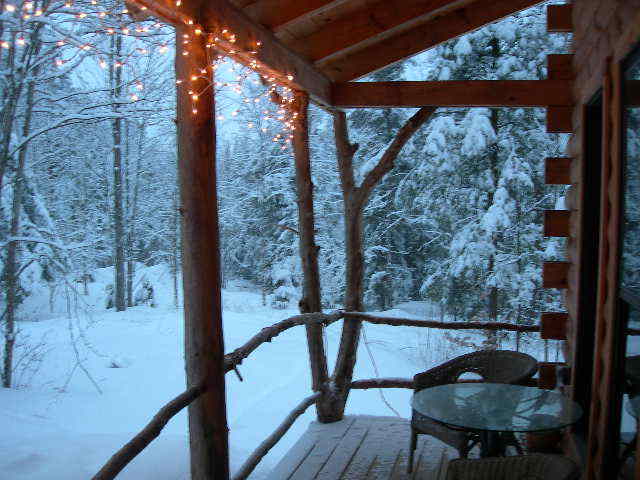 Looking out from the cabin porch. This was taken when the 44 hours, 16+ inches of snow began to fall.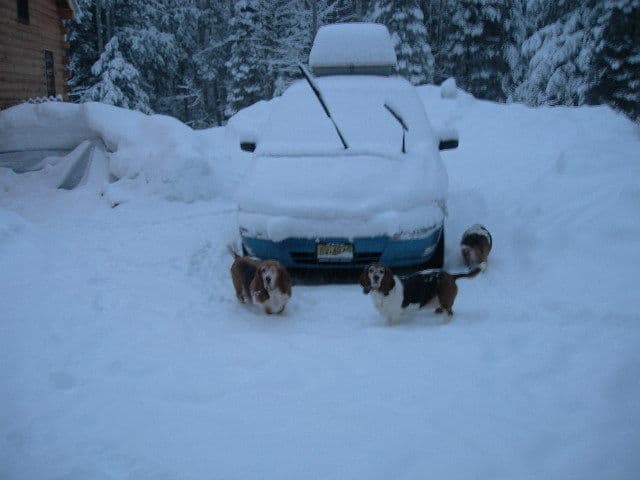 Here is the BUV, Humphrey, Precious & Jacques' butt on Wednesday morning, 2/27, our anniversary day.
Time to go to another ski area we love, Mad River Glen.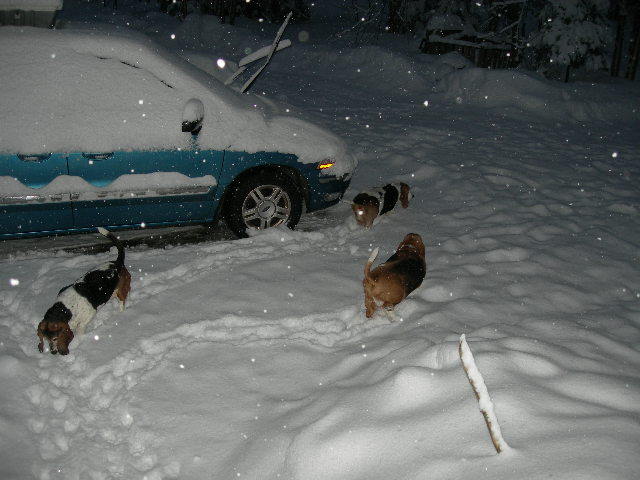 Tuesday night, during the snow. Last call for a pee break before we go to bed.
Oh, BTW, Jacques woke me up twice a night all week to go out.
Lucky to still have THREE hounds! LOL!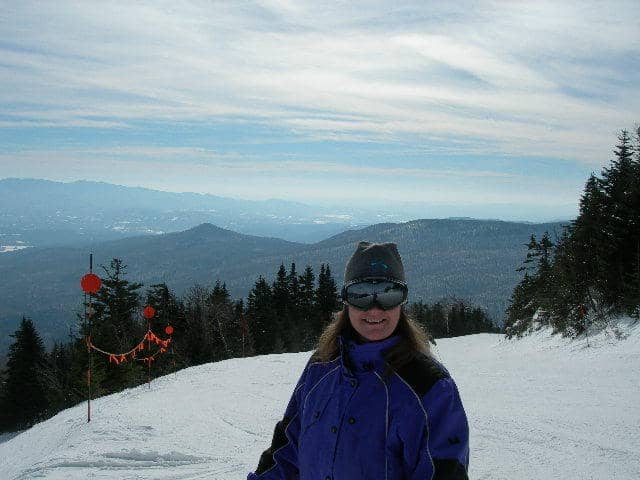 I saved the best for last. Beauty with a beautiful background.
I hope you enjoyed a taste of the greatest, most wonderful ski trip we ever had. Many more to come!!!
Leon
---
Website by Leon Winstanley

Back to top