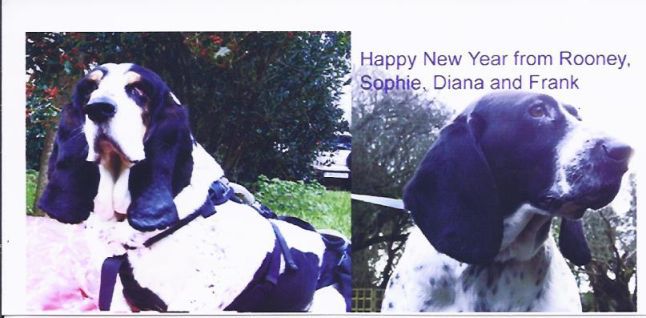 Rooney & Sophie, owners of our dear friends,
Diana Grove and Frank Flanagan of Dublin, Ireland.
---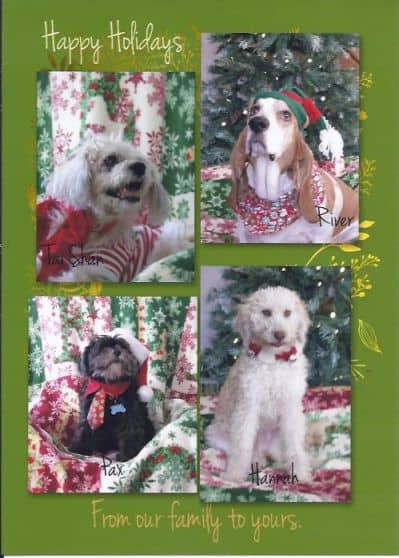 River, Pax & Hannah, owners of Y. Irvin & E. Joell of MD.
---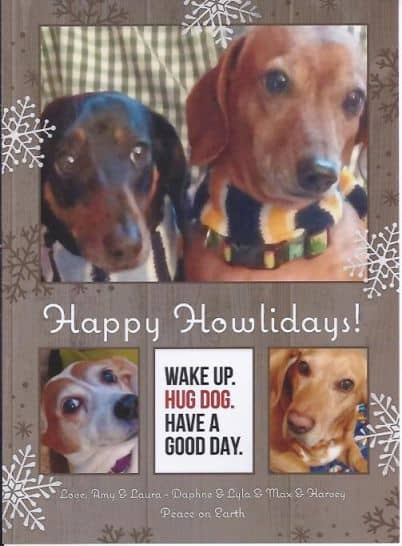 Daphne, Lyla, Max & Harvey, owners of Laura Southcombe of IL.
---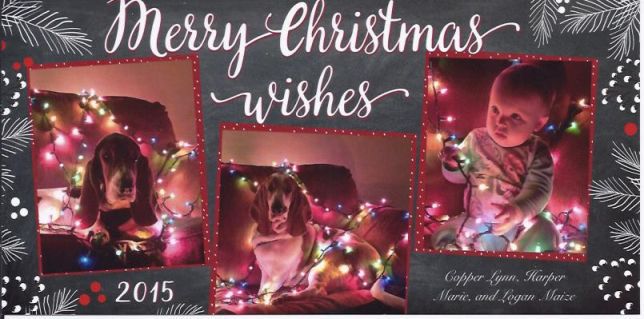 Copper Lynn & Harper Marie, owners of the Joseys of FL.
---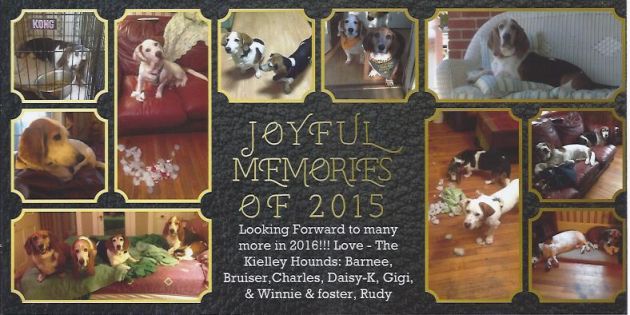 Daisy-Kay, Charles, Winnie, Bruiser, Gigi & Barnee, owners of the Kielleys of PA.
---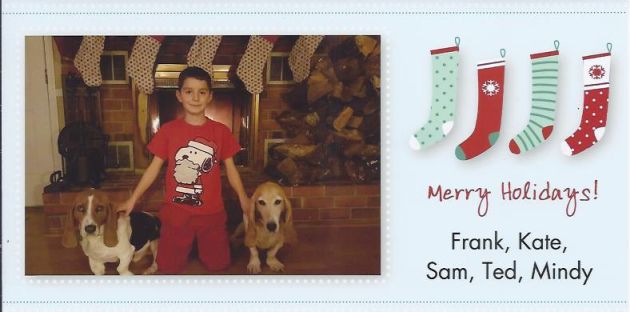 The Drooligans, owners of the Lightys of CT.
---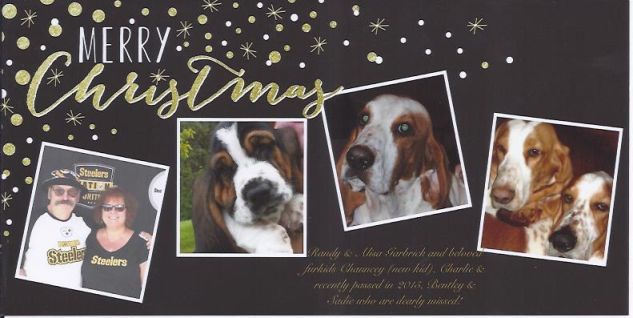 Charlie & Chauncey, owners of Randy & Alisa Garbrick of PA.
---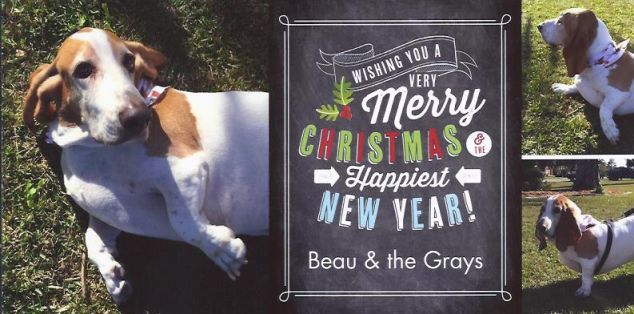 Beau, owner of the Grays of FL.
---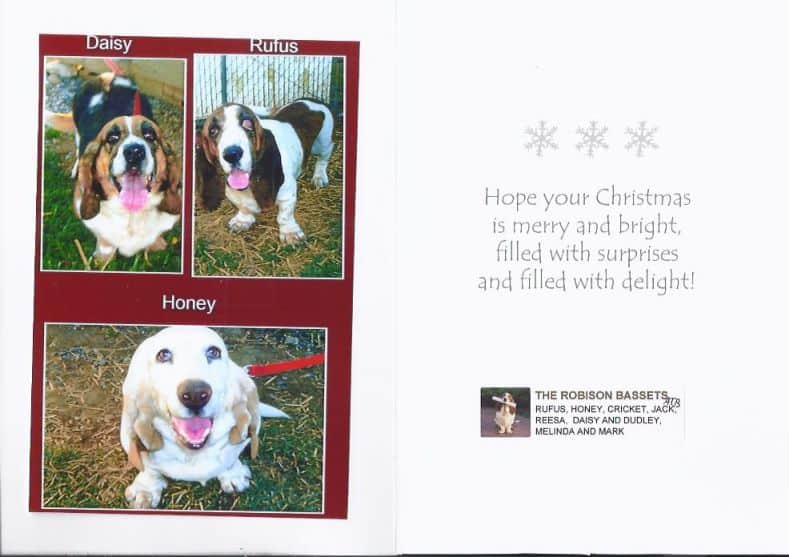 Daisy, Rufus & Honey, owners of Melinda Robison of OH.
---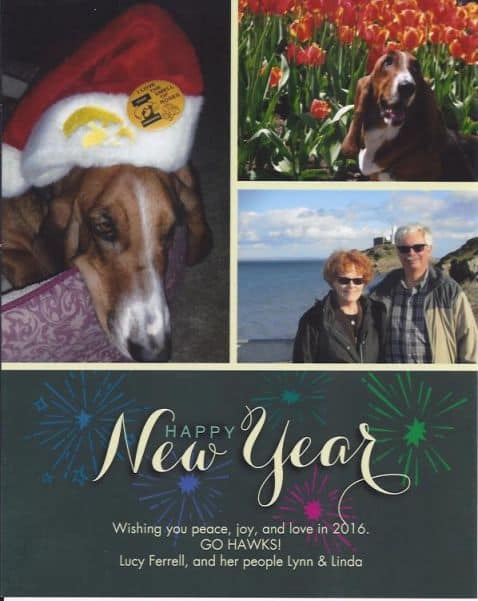 Lucy, owner of Lynn & Linda Ferrell of IA.
---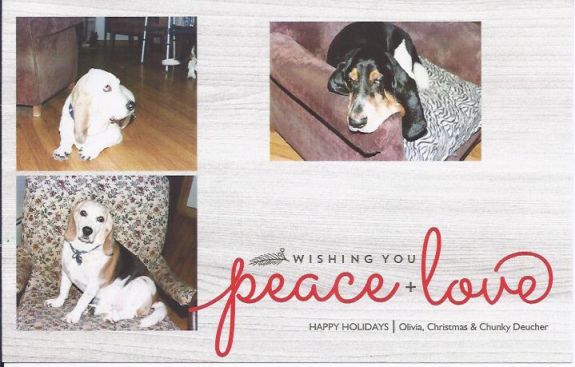 Chunky, Olivia & Christmas the Beagle, owners of Marilyn & Gerry Deucher of OH.
---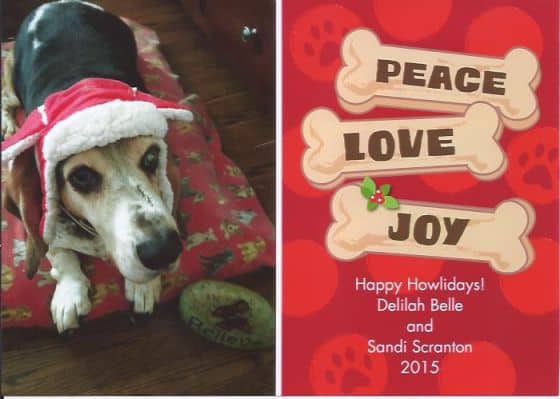 Delilah Belle, owner of Sandi Scranton of NJ.
---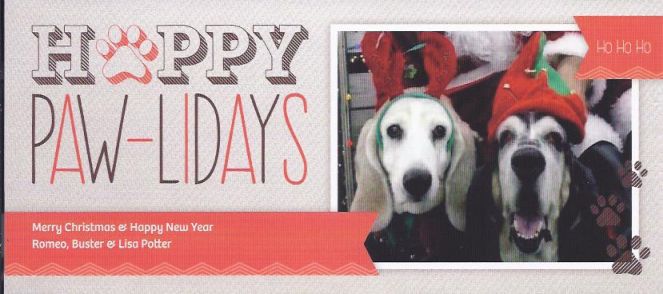 Romeo & Buster, owners of Lisa Potter of IL.
---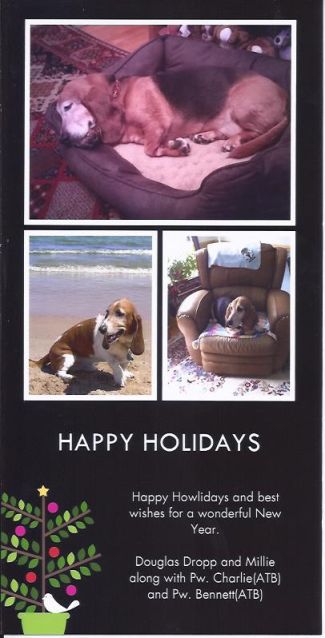 Millie, Pw.Charlie (ATB) & Pw.Bennett (ATB),
owners of Douglas Dropp of WI.
---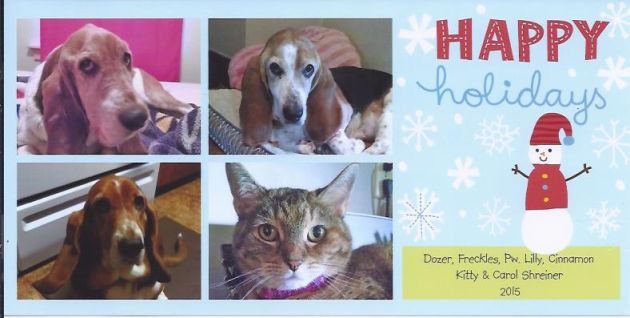 Dozer, Freckles, Pw. Lilly & Cinnamon Kitty, owners of Carol Shreiner of OH.
---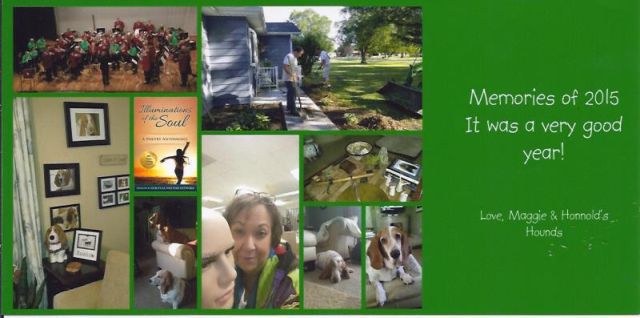 Maggie & the Honnold's Hounds.
Please forgive the lack of information, but when the cards come in multi-paks, sometimes
I have no way of getting an ID if it is not provided.
Even trying to cross reference in the address list, I wish not to mis-inform.
I am left with what is provided.
Sorry.
---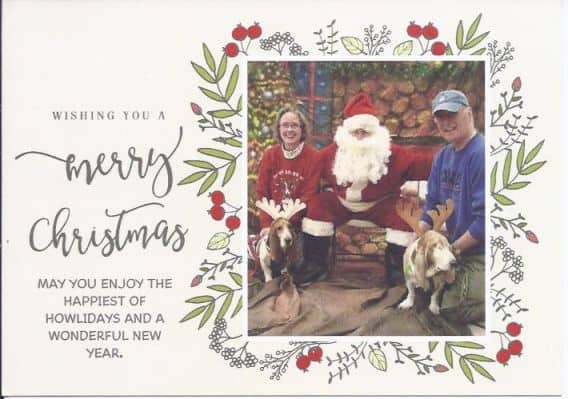 Dexter & Horton, owners of Pam & Drew McQuade of NJ.
---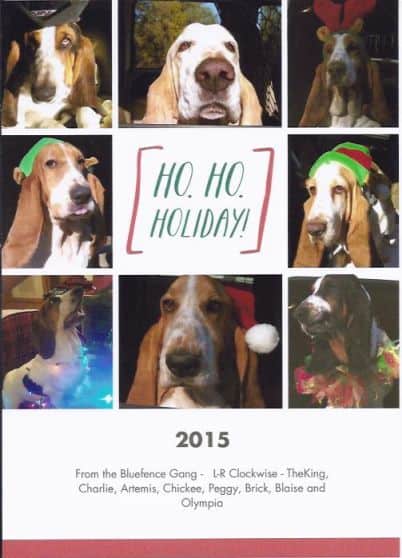 Bluefence Bassets: TheKing, Charlie, Artemis, Chickee,
Peggy, Brick, Blaise & Olympia,
owners of Sara Watson & Jan Allison of CA.
---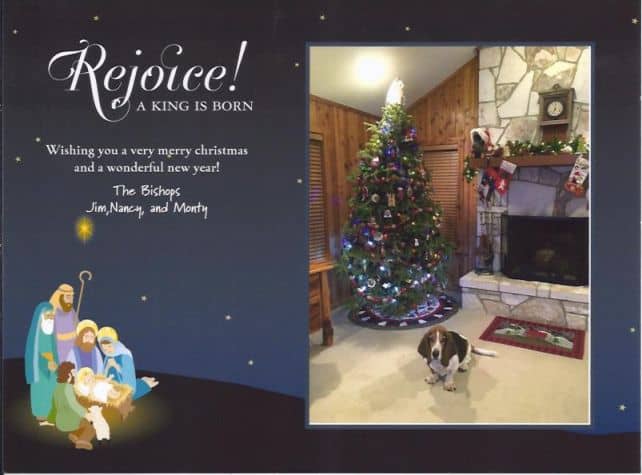 Monty, owner of Jim & Nancy Bishop of TX.
---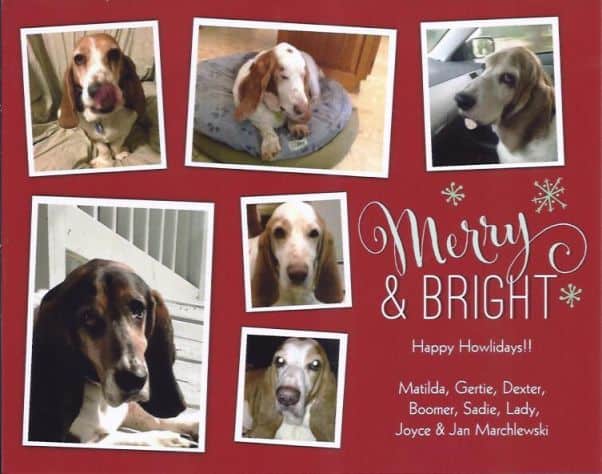 Lady, Boomer, Dexter, Matilda, Sadie & Gertie,
owners of Joyce & Jan Marchlewski of MO.
---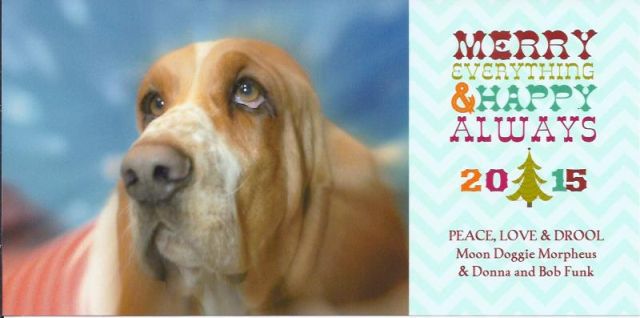 Morpheus, owner of Donna & Bob Funk of NJ.
---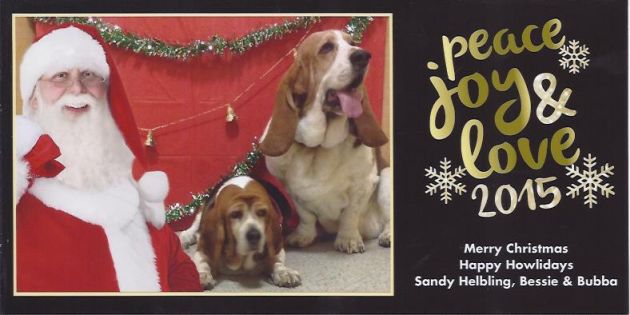 Bubba & Bessie, owners of Sandy Helbling of PA.
---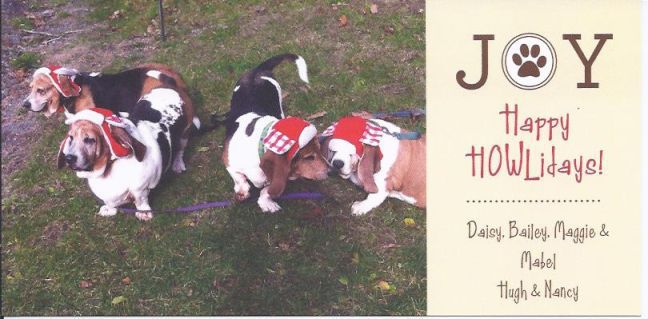 Maggie, Bailey, Mabel & Daisy, owners of Hugh & Nancy Wiltse of PA.
---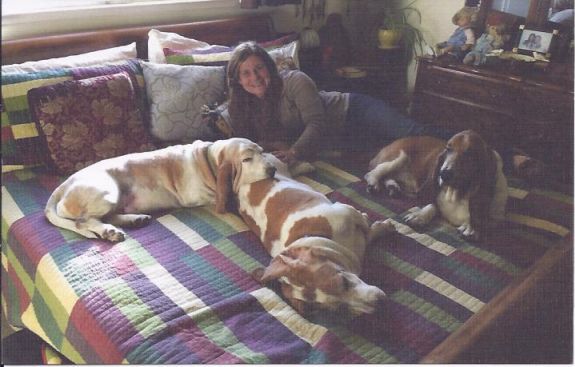 Snoopy, LuLu & Gracie, owners of Dale Rutz of CA.
---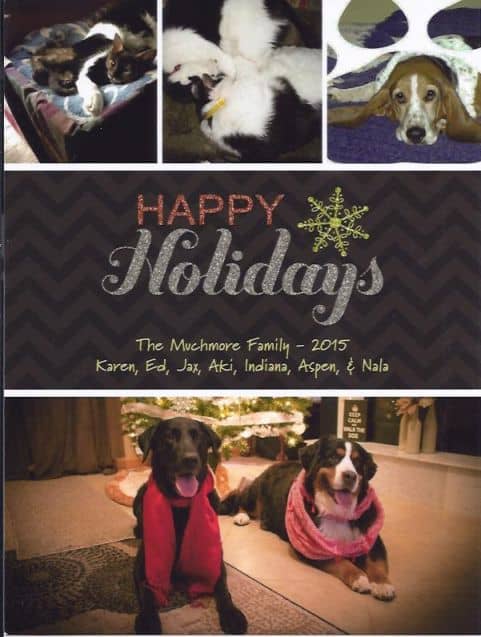 Jax, Aki, Indiana, Aspen & Nala, owners of Karen & Ed Muchmore.
---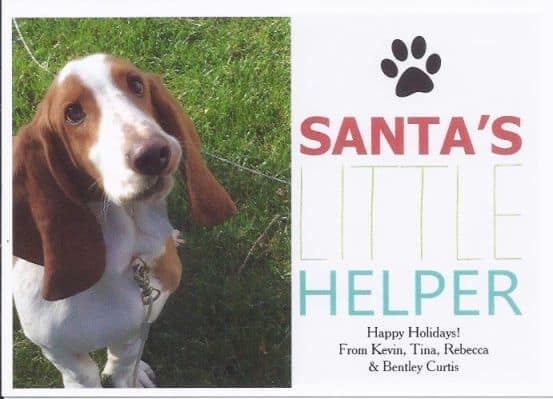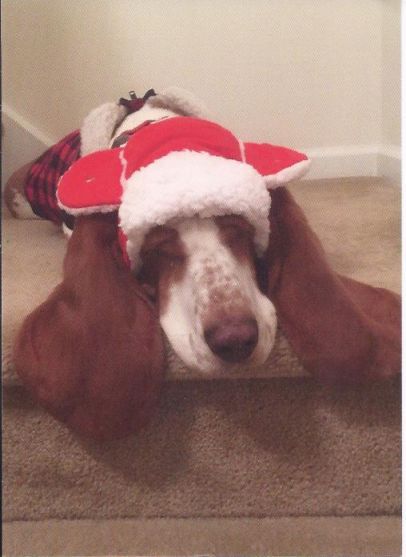 Bently, owner of Kevin, Rebecca & Tina Curtis of CT.
---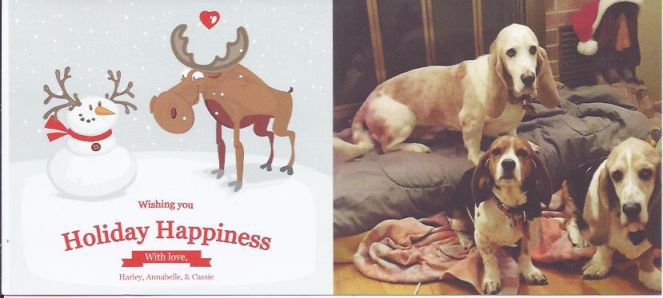 Harley, Annabelle & Cassie, owners of Chyril Sparks of VA.
---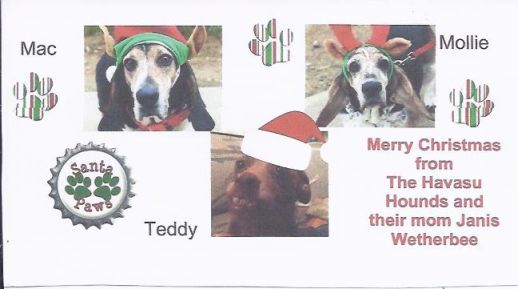 Mac, Mollie & Teddy, owners of
Janis Wetherbee of AZ.
---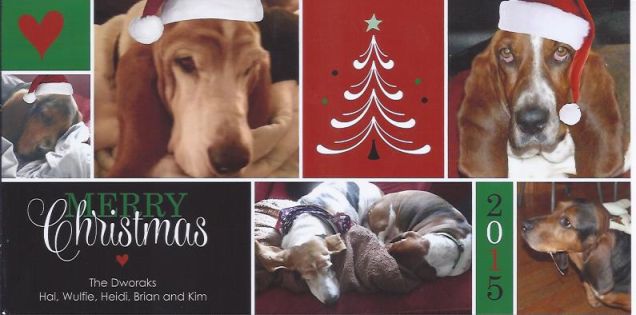 Hal, Wulfgang & Heidi, owners of Kim & Brian Dworak of WI.
---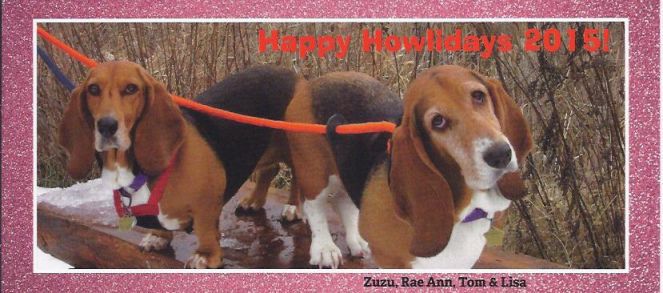 Zuzu & Rae Ann, Owners of Lisa Turnquist & Tom Nieters of MN.
---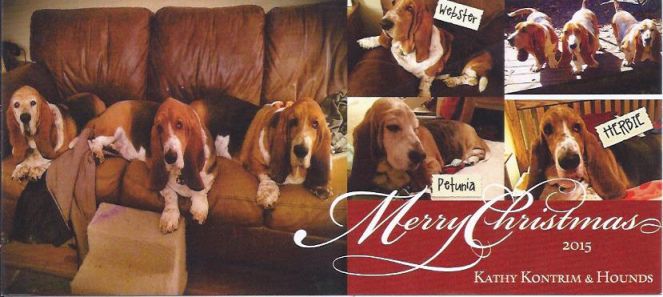 Herbie, Webster & Petunia, owners of Kathy Kontrim of TN.
---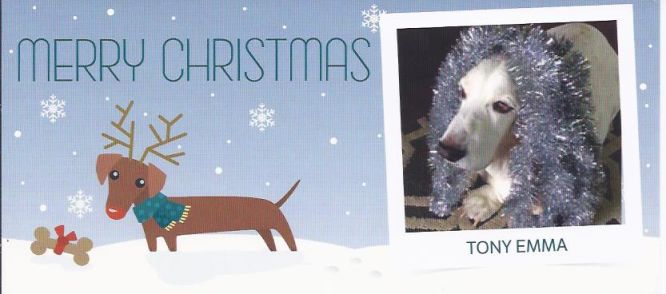 Tony, owner of Daria Emma & Jimmy of FL.
---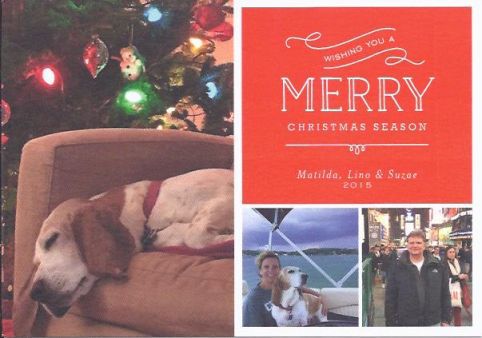 Matilda, owner of Suzae Johnson & Lino Frigo of IL.
---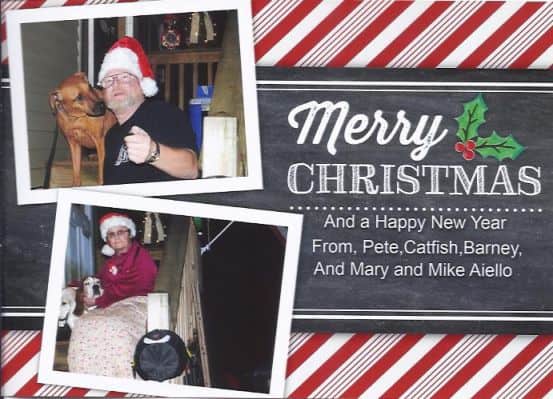 Petey,Barney & Catfish Hunter, owners of Mary & Mike Aiello.
---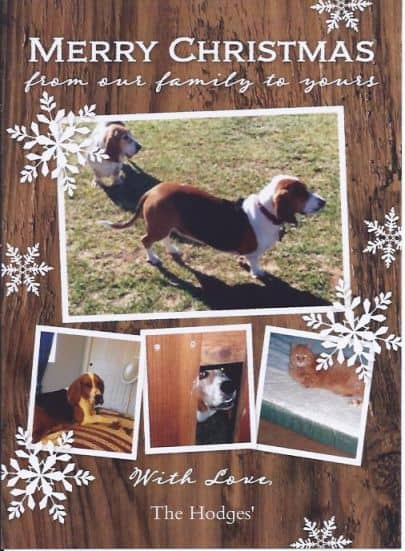 Hamlet, Heidi & Wallace-the-cat, owners of Barbara Hodges of CA.
---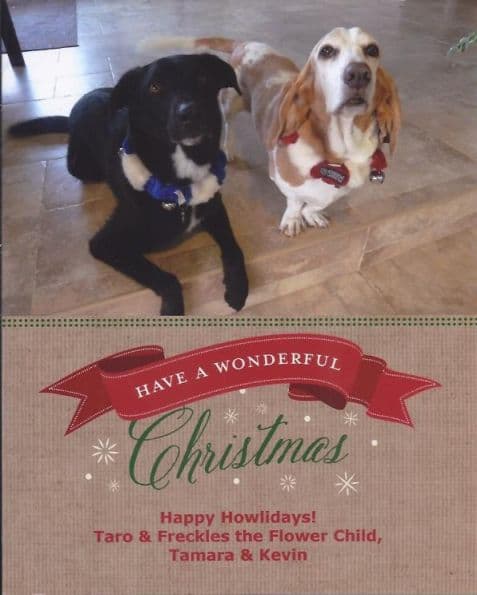 Taro & Freckles, owners of Tamara & Kevin Kaizuka of CA.
---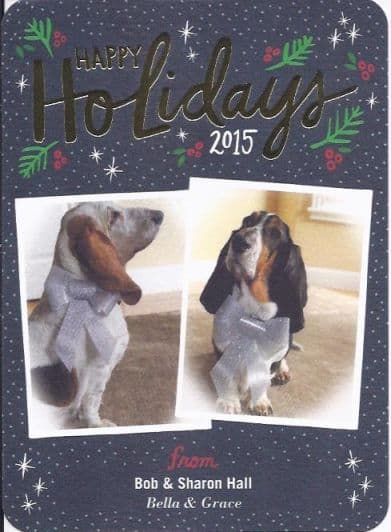 Bella & Grace, owners of Bob & Sharon Hall of CA.
---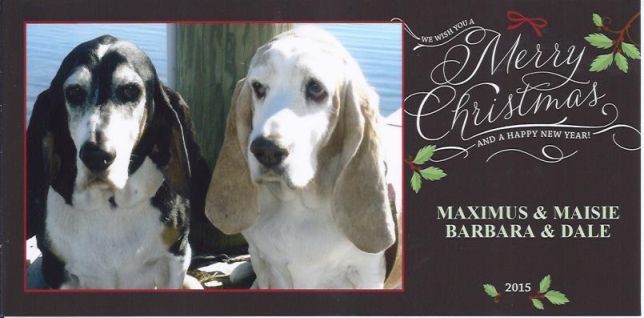 Maximus & Maisie, owners of
Barbara Cooper & Dale Ulshafer of PA.
---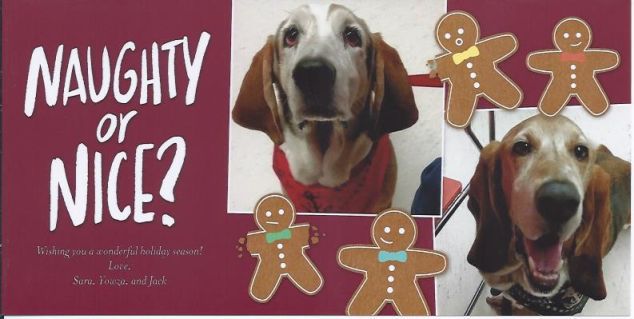 Youza & Jack, owners of Sara Aipperspach of MN.
---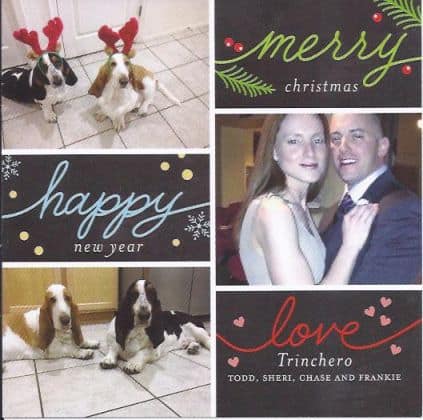 Chase & Frankie, owners of Todd & Sheri Trinchero of AZ.
---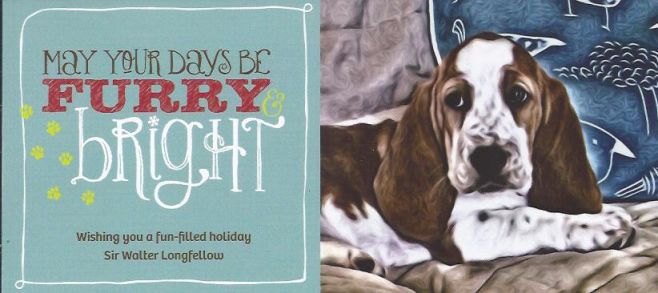 Sir Walter Longfellow, owner of Mary Stange of IL.
---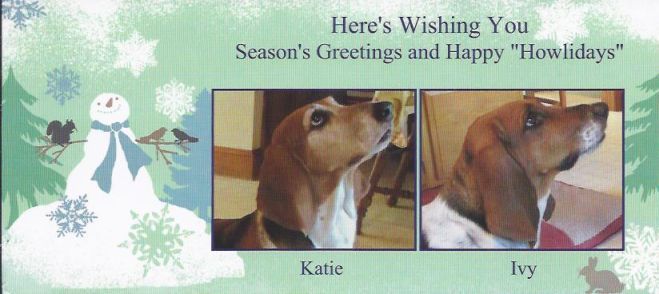 Katie & Ivy, owners of Kathy & Dan Sexton of MA.
---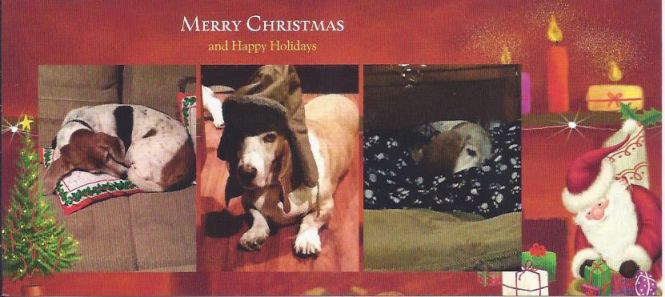 Junior, Naughty Nessy Noodle & Pheobe (ATB), owners of Siobhan Levi of MA.
---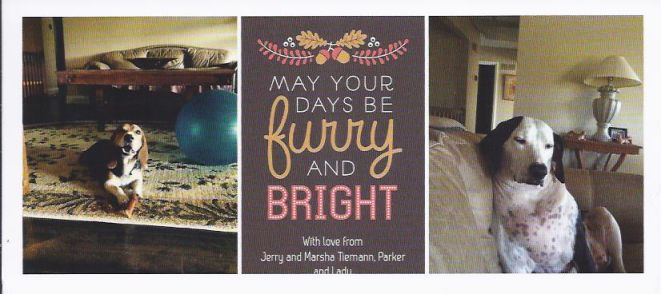 Parker & Lady, owners of Jerry & Marsha Tiemann of KS.
---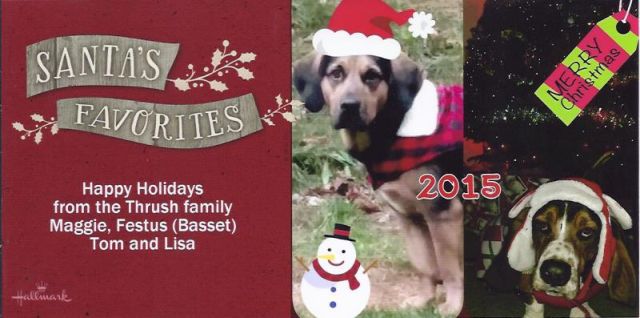 Maggie & Festus, owners of Tom & Lisa Thrush of MI.